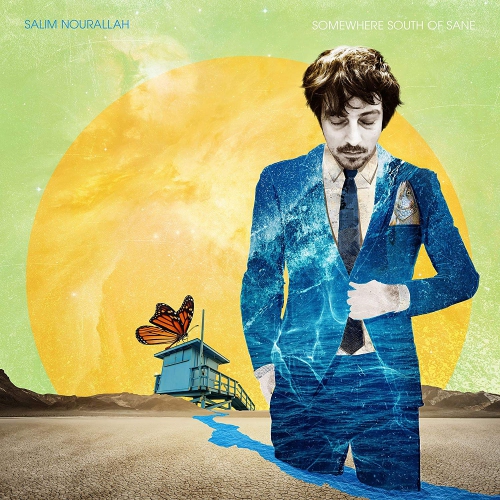 320 kbps | 171 MB | LINKS

Singer/songwriter/producer/musician-of-many-trades Salim Nourallah is set to release a sprawling double-album, Somewhere South of Sane, on September 28, 2018 on Palo Santo Records. In advance of the album release, Nourallah is releasing four pre-album "bundles" that will include tracks from the album as well as previously recorded but unreleased material or acoustic re-imaginings of tracks from past Nourallah albums. Each bundle, (EP) will be accompanied by new online video content.
Bundle four, entitled South, is set for release on September 7, 2018. Included on this release are two tracks that will also appear on Somewhere South of Sane – "Tucumcari" (a full-band version only available on the EP and the Sane CD version) and "Sweet As a Weed" – as well as a special bonus track entitled "Joykillers." There will be two videos accompanying this bundle – a clip for the song "Tucumcari" and one for "Sweet As a Weed" – and they will premiere the week of South's release.
Nourallah explains "Tucumcari": "I was raised in the Southwest. Tucumcari is a small town in New Mexico my family passed through on several occasions when I was a kid. There is a lone mountain just outside of Tucumcari with a tragic Apache legend attached to it. Basically, everyone dies for love. I hadn't thought of Tucumcari since I was a kid, so it was cosmically strange when I woke up one morning singing the word Tucumcari over this melody I'd come up with the night before. It seemed to have come out of nowhere. The lyrics were inspired by something John Lennon said in the 1970s about long-term relationships being like climbing mountains. The analogy stayed with me many years until it somehow found its way into this song."
"Sweet As a Weed" came out of a trip Nourallah took to the Show-Me State. "I was having pre-gig chips and salsa with a friend in Malden, Missouri," Nourallah recalls. "We were talking about my daughter when he proclaimed, 'Well, she's about as sweet as a weed!' I nearly spit out a chip. 'What? Is that actually a saying?' It was baffling to me. Weeds aren't sweet! He swore it was a legit Southern saying after I grilled him on it. I stuffed it away in my file of things to consider for songs. A year later, I was fooling around with a guitar figure in drop B tuning. The first words out of my mouth were, 'Sweet as a weed…' The words are not about my daughter though. They ended up being about a kind of woman I've always been drawn to – especially in song, one of the first of those songs being, 'For No One,' on The Beatles' Revolver."
"Joykillers" was born from both memories of Nourallah's youth juxtaposed with being a parent himself. "When I was about 12, my brother and I were happily bouncing a tennis ball off a brick wall on the side of our house in El Paso," he recalls. "Our father came out and barked, 'Stop doing that! The wall is going to fall down!!' These kinds of things happened a lot. Now that I'm a parent it strikes me as sad when I see kids blissfully playing and having fun – totally engaged with the moment – and some adult bursts in with a joy killing warning. Sometimes I catch myself. I'm that adult, even though I don't want to be. Although 'Joykillers' was a favorite of a couple friends I played it for, I didn't think it quite fit in with the rest of Somewhere South of Sane. It has thusly been relegated to bonus track land."
Already released bundles one, North (which came out June 1, 2018) and West (which came out June 29, 2018), precede bundle three, East (which will be released July 27, 2018), and South. The four EPs give fans a sneak peek into what is in store for them onSomewhere South of Sane. The 21 tracks that comprise the four-sided album are what he calls, "the work of a functional crazy person." Nourallah is equal parts songwriter and producer, creating a shifting sonic landscape that could easily be mistaken for the work of multiple artists. This is the sound of someone trying to save his own mind. Nourallah did – in the end – and created nothing short of a musical odyssey.
As a solo artist, Nourallah has long mined the terrain between catchy and devastating. After gaining initial acclaim with the Denton, TX-based Nourallah Brothers, he went on to release six solo albums. His debut, Polaroid (2004), had Rolling Stone calling him "a singer-songwriter who can stop time." 2015's Skeleton Closet was cited by Dusted as a "masterful balance of the said and the unsaid… like a good novel, full of implications and shadowy contradictions and complexities." As a producer, Nourallah boasts quite an impressive C.V. of production credits (Old 97's, the Damnwells, Rhett Miller, the Deathray Davies). He's also been involved in numerous other projects, including co-founding and running A & R for the Palo Santo music group. Over the years, his work on both sides of the sound booth has won him an armful of Dallas Observer music awards. That, and the consistent quality of Salim Nourallah's music, have proven that some musicians actually can continue to stay relevant.