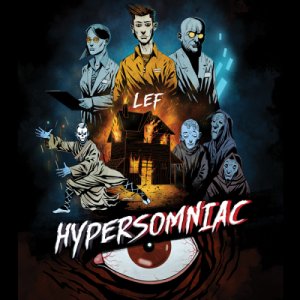 320 kbps | 120 MB | LINKS

Singer-composer Lorenzo Esposito Fornasari (LEF) has made his mark as a powerfully expressive singer through a series of potent RareNoiseRecords releases, including Obake's Draugr, Seven Mutations and their 2011 self-title debut, Owls' The Night Stays, O.R.k.'s Soul of an Octopus, Somma's 23 Wheels of Dharma and Berserk's 2013 self-titled debut. But his own debut as a leader, the intriguing multi-media project HyperSomniac, is easily his most ambitious and impressive undertaking to date.
An online comic with stark, startling drawings by Nana Octopus Dalla Porta, is underscored by LEF's appropriately dark soundtrack performed by an all-star band featuring American bassist Bill Laswell, Norwegian guitar visionary Eivind Aarset, Norwegian future jazz trumpeter Nils Petter Molvaer, thunderous Norwegian drummer Kenneth Kapstad (of Motorpsycho), British saxophonist Rebecca Sneddon (of Free Nelson Mandoomjazz) and Norwegian organist Ståle Storløkken (of Supersilent, Motorpsycho and Reflections in Cosmos).
"That was also important for the sound I aimed to. I worked with Bill in the past on two projects led by my brother-in-music Eraldo Bernocchi — Somma and Ashes. Bill is god, enough said. Nils Petter Molvaer was in the Somma lineup as well. I'm a big fan of his unique and peculiar sound. Eivind had an important role in Berserk! We played live several times together and I also provided vocals to a piece from his last solo album. He is simply one of the most talented and visionary musicians out there. A lot of people are trying to emulate his peculiar guitar style and sound, but he is truly an original. I deeply love his musical view, which is somehow complementary to my own approach. Kenneth is a groove machine and has a very impressive personal style. Ståle is a keys and Hammond organ wizard and Rebecca was just the perfect sax player we were missing for the kind of sound I had in mind. She also provided the voice-over to all the HyperSomniac videos."