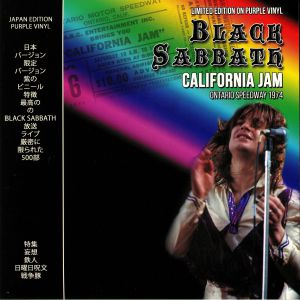 FLAC | LINKS

This is the legendary US KLOS-FM Stereo broadcast featuring Black Sabbath in concert from the Ontario Speedway, California on 6th April 1974.Black Sabbath's concert appearance at the California Jam Festival has gone down in rock legend and is widely considered to be their best ever live concert recording.
This legendary gig, was simulcast and televised live by ABC-TV in prime time, features an extensive re-working of 'Sabbra Cadabra' from the band's then most recent album 'Sabbath Bloody Sabbath', and a rare performance of the unreleased live only track 'Sometimes I'm Happy'.
The band was on top form from the opening notes of 'Tomorrow's Dream' right through to 'Paranoid', the ultimate show stopper.
A real classic concert and essential listening for every Black Sabbath fan.
Tracks
01 Tomorrow's Dream 2:50
02 Sweet Leaf 5:15
03 Killing Yourself To Live 5:19
04 War Pigs 5:29
05 Snowblind 4:29
06 Sabbra Cadabra 5:00
07 Sometime I'm Happy 2:49
08 Iron Man 5:14
09 Paranoid 2:41
10 Children Of The Grave 4:31
Limited edition of 500 copies on purple vinyl.